Chicago Illinois (IL) Area Wholesale Poinsettia Plant Grower
Delivery Zone
Please note, our delivery zone for all products is the Chicago area including all suburbs. Depending on the size of the order, deliveries could also be made to southern Wisconsin, the DeKalb area, the Quad Cities area and the Rockford area. Schaefer's is located just 40 miles west of Chicago on Lake St. (Route 31) in Montgomery Illinois (IL).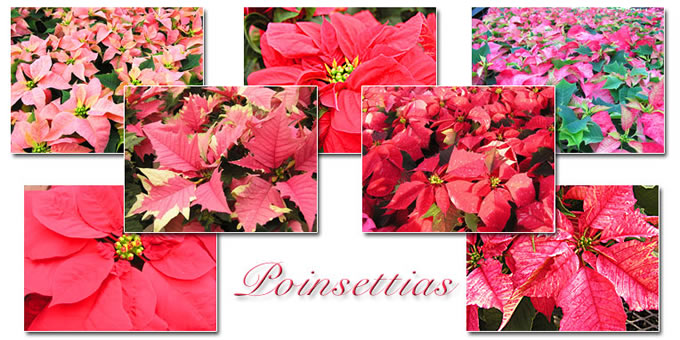 Poinsettia Plants Direct From Grower
The Poinsettia plant is the #1 live plant sold in the United States today and also the most misspelled (pointsetta, pointsettas, pointsettia, poinsetta or poinsettas) . A native of Mexico, the poinsettia was introduced to the US in 1828 and has become a symbol of the winter holiday season. Representing over 85% of holiday plant sales, the poinsettia plant is a Christmas tradition. Schaefer's Greenhouse offers a wide variety of poinsettias. Each year we grow over 60 varieties of poinsettia plants in 20 or more colors – from traditional red to burgundy, white, peach, and even marble or speckled varieties. Enjoy a Schaefer's poinsettia plant in your home this holiday season!
At Schaefers, poinsettia plant production begins in January with the arrival of fresh stock plants. Over the course of the year, we propagate new plants, ship cuttings to other local greenhouses and garden centers and tend to the plants that will be sold for the holiday season. Our poinsettias are raised in a professional environment with automated lighting and temperature controls, as well as generations of grower experience. The result – our plants last longer and produce more vivid blooms than those of our competitors. When you buy a poinsettia plant from Schaefer Greenhouses, you can be sure that you are getting a florist-quality, vibrant plant!
Please note, custom orders for specific colors and sizes must be placed by June 1st to guarantee delivery for the Christmas season.
Product Availability
3.5″ 1 flower (red only)
4.5″ 1 branch, 3 flowers
6.0″ 1 branch, 4-5 flowers
6.5″ 1 branch, 5-7 flowers
6.5″ 2 branches, 7-9 flowers
7.5″ 2 branches, 9+ flowers
8.0″ 3 branches, 12+ flowers
10″ 4 branches, 15+ flowers
12″ 5 branches, 18″ flowers
Varieties available

Freedom
Peterstar
Prestige

Colors available

Red
White
Pink
Red Glitter
Burgundy
Picasso
Red Carousel
Strawberries & Cream
Silver Star
Ice Punch
Marble

Pot covers available in green and gold
A Poinsettia Fundraiser Is A Winning Proposition
If your organization is planning a winter fundraiser, consider poinsettias as your product of choice. Poinsettias make a great gift for both residential and corporate environments. Add a little cheer to your holiday fundraising. Find out more about our poinsettia fundraisers!
Contact Wholesale Department
Our Wholesale Department provides product for Retail Flower Shops, Grocery Stores, Wholesalers, Landscapers, Churches and spring and winter Fundraisers. For more information give us a call at 630-896-1930 (Toll Free 888-252-9545) or fill out the information on our Contact Us page and we'll get right back to you.