Chicago Illinois Area Wholesale Plant Grower-Annuals, Perennials, Poinsettias, Easter Lilies
Delivering Plants To Chicago Area Florists for Over 80 Years
Welcome to Schaefer's Greenhouse, located just South of Aurora, on Route 31 in Montgomery Illinois. We've been growing premium plants for over 80 years. Our experience and expertise ensure the highest quality products and service. We're family owned and family friendly.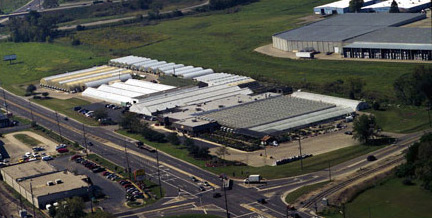 Our greenhouses are the heart of our business. We proudly specialize in growing only the finest, florist-quality plants. More than 80% of our crops are grown right here in our greenhouses, assuring you the freshest and healthiest plants available. Lush green tropical plants are available in all sizes. They create a soothing and healthy environment. Schaefer Greenhouses grows its own Easter Lilies, Poinsettias, Azaleas, Kalanchoes, Reiger Begonias, Geraniums, Mums, Cyclamen and much more in our 200,000 square foot facility located in Montgomery Illinois (IL).
In addition to being a grower of wholesale plants, Schaefer's also has a retail flower shop, a large garden center and also provides plant rental/maintenance services.
Our Wholesale Department provides product for Retail Flower Shops, Grocery Stores, Wholesalers, Landscapers, Churches and spring and winter Fundraisers. For more information give us a call at 630-896-1930 or fill out the information on our Contact Us page and we'll get right back to you.
Delivery Zone
Please note, our delivery zone for all products is the Chicago area including all suburbs. Depending on the size of the order, deliveries could also be made to southern Wisconsin, the DeKalb area, the Quad Cities area and the Rockford area. Schaefer's is located just 40 miles west of Chicago on Lake St. (Route 31) in Montgomery Illinois (IL).
If you have gotten to Schaefer's Wholesale site by mistake and are interested in visiting our retail flower shop and garden center website please click here www.schaefergreenhouses.com.